I like to think of you as a champion for ECK when you care enough to make the ECK teachings available to seekers.
"Nala," from Lagos, Nigeria, was out and about one day, running errands. She'd also brought an ECK booklet with her. When she stopped at a newsstand, a young man spotted the ECK booklet. Yes, she was an ECKist, to answer his first question.
Yes, she'd also loan him the booklet.
And yes, they did worship in the area. Where? She gave him the address. But he was a no-show at the next ECK discussion class.
Two weeks later, Nala was debating what to wear to the ECK service that day: dress or ECK T-shirt and slacks? A strong inner prompt said, "T-shirt and slacks."
As she was weaving her way through the crowd, the young man she'd given the ECK booklet hailed her. He hadn't been able to find the discussion-class address. So they arranged to meet at this very spot the day of the ECK discussion class, and she'd personally take him to the meeting. That's what the strong nudge was all about. He wouldn't have recognized her in the dress.
Today, he attends the class regularly.
And seekers come in all sizes. "Pam" learned this while sitting a booth at an Edge Life Expo in town. A feature of the booth was a wheel with ECK topics visitors could spin to select a topic at random.
Two boys, around ten or twelve, asked to spin the wheel. After spinning it, one of the boys was uneasy with his selection. So he spun the wheel again. Disappointment still etched his features. Pam asked, "What did you want to land on?"
"Dreams!" he declared.
"Do you have dreams?"
The youth grew frenzied. "Yes, I dreamed a bear bit my arm." He showed her where he got bit.
"Did you wake up then?"
Disdainfully, as if she should have known better, he replied, "The bear bit me. I died!"
"Oh, you were there," Pam said, catching on quickly.
Still so excited he could hardly stand, the boy confirmed her observation. Somewhat at a loss because no parent was with him, she simply said, "Cool!"
"That's what my mom said too." Before leaving, he took the booklet ECK Wisdom on Dreams.
This exchange completely filled Pam's heart. She observed that this Soul was on Its way home to God, and she'd been fortunate to witness a leg of that journey.
Switching to another of Pam's experiences as an ECK champion, she told of a recent back problem that had her on the floor, unable to move. As she lay there, she wondered, Why did this have to happen on a work morning? There has to be a reason. Someone has to benefit, either me or someone else.
When the pain in her back had finally eased, she called her chiropractor and got right in.
As she entered the doctor's office, there stood a man who had on occasion delivered mail to her house. They'd lightly spoken a few times over the past half year about ECKANKAR. And she'd given him a book. After they greeted each other, he said he had a little more free time now and suggested they meet sometime to talk about ECKANKAR.
This "chance" meeting gave her a better understanding of her own quest. She's become more aware of the love from SUGMAD, and she is actively looking for expressions of how it appears in everyday life. The reason for her back problem that particular day was now crystal clear: she was to be a champion for ECK.
The above stories will also refresh your own understanding about the novel ways the ECK reveals Itself every day. Be sure to look for them.
—Sri Harold Klemp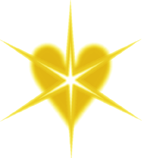 Start your week by declaring yourself a willing champion for ECK. See what opportunities each day affords you as the ECK takes you up on your offer. Every encounter holds a spiritual story.
​

​