In the early days of the automobile, car owners put their cars up on blocks during the winter. Cars broke down all too frequently then, and the roads were well-nigh impassable.
The winter roads in South Dakota, a northern state of the Midwest, were especially bad then, so it was reasonable to assume that car dealerships there would certainly shut down until spring. But such was not always the case.
The Ford Motor Company's first sales manager was surprised to see orders continuing to come in from that state, which suffers from a most inhospitable wintry clime. Upon investigation, he learned that the small dealer was an unsophisticated young man. The naive lad did not know he was not expected to sell cars in winter. So he did.
Impressed by the young man's example, the sales manager got after the other salesmen, and within a few years, January had become the peak month for sales.
What had prompted the young sales dealer?
Well, he was a car salesman, and a salesman's job was to sell cars. From that came his nudge.
It is much the same for an ECK Vahana, a missionary for the Light and Sound of God. One who is a Vahana, however, answers to a much higher call. He's not looking out for his own interests. Instead, he is telling others about the ECK teachings and the HU because of love for the Mahanta, the Living ECK Master.
Such was the case of this ECKist whom I will call Susan.
Recently, she and her husband traveled to Canada to attend their daughter's wedding. A reception was to follow the ceremony. The couple arrived at the reception center very early. After an hour's wait, Susan was tired, hungry, and anxious.
Then she got a strong nudge from the Mahanta to go to the ladies' room.
There, an attendant watched Susan applying makeup. "How beautiful you are," she said. She shared tips on how to apply eyeliner. Then she even offered to apply it.
Did Susan want a stranger touching her face?
"All right," Susan said, following her inner guidance, "but you must wash your hands first."
Faida, the attendant, began to apply Susan's makeup. The women then made eye contact, and Susan could feel the love flowing between them. The Mahanta's presence was very strong.
Conversation revealed that Faida was from Lebanon. She was most grateful for the move to Canada last year, but she sorely missed her home. "So much turmoil between Israel and Beirut!" she exclaimed. "Why do people fight? War, always war. Will it ever end? We're all the same, aren't we?"
Susan got a nudge from the Mahanta to hold off on comments like "This is a warring universe." She was to continue listening.
Faida spoke of her family, those in Canada and those still in Lebanon.
The Mahanta then nudged Susan to ask, "Do you believe in God?"
"Yes, but not separating Christians, Jews, Buddhists from one another." She added, "All under one God. I'm Christian, but something's not . . ." She could not put words to what she was not receiving from her faith.
After a bit, Susan was able to offer Faida some ECK books and a HU: A Love Song to God CD. Faida was grateful for the gifts.
"I knew there was something beautiful inside you too," she said.
Nudges. Follow them. This holds true whether you are in sales or serving the Mahanta.
—Sri Harold Klemp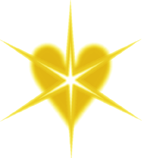 How can you make a habit of catching the Mahanta's nudges?
Today, ask for a chance to speak with another Soul, from your heart, on whatever the Inner Master guides you to share about your love for life, for ECK, or for HU.
Tip: Do this often!