A young man from Beijing, China, once wrote to me about the gratitude he felt when a band of ECK Vahanas (missionaries) had introduced him to the beautiful love song to God, HU.
But when they left, he felt empty and alone. He wondered why no other people wanted to sing HU with him.
Then, one morning, he heard the beautiful songs of swallows coming from his balcony. It was the first time he'd noticed. He noticed for a reason. He could feel the divine love in their songs, for his great desire for God had opened his spiritual ears. The swallows, he knew, were singing the HU song too.
This brought the realization that he was never alone. God's love was always with him.
Further, the swallows recognized him as a child of God too, so they felt comfortable making a nest on his balcony. When the cold weather came, the swallows flew back to the warm southern part of China.
But he wasn't left alone. Song sparrows moved into the nests, to assure him of God's ever-present love for him.
"Soul exists because God loves It," says The Shariyat-Ki-Sugmad, Book One. And it is truly so.
You know this keystone of ECK by heart. It is written in the consciousness of all life, and it accounts for some acts of love and charity in the most unexpected ways. It showed up in the life of this young Chinese man in the singing of swallows to chase his blues. But it manifests in other ways too.
Wilton, a retired man from Auckland, New Zealand, reported a case of Tiddles, his cat, saving a bird. The story runs like this:
One morning, Wilton heard a loud bang. A blackbird had crashed into a glass panel on his patio. It'd fallen to the seat beneath the window, where it lay stunned. Just that fast, Tiddles was at the scene. Yet she didn't pounce on the blackbird but watched Wilton trying to get it to drink water from a saucer, though without success.
Wilton went inside to get a dropper.
When he returned, an amazing sight greeted his eyes. Tiddles was feeding water to the bird. Her method was inspired.
She'd put her head in the saucer and would lap twice. Then she'd put her dripping mouth to the blackbird's beak, licking it with her tongue. Slowly the bird began to revive. Tiddles watched over it for nearly an hour, at which time it'd gathered its strength and could fly to a low fence. Then it rejoined its mate in a tree, where they'd nested the summer long. It was an amazing sight, indeed.
As an ECK leader, you undoubtedly see this expression of SUGMAD's (God's) love on every hand. This love shows itself only to a higher state of consciousness.
So enjoy and bask in those moments when you can see or hear God's love sing.
—Sri Harold Klemp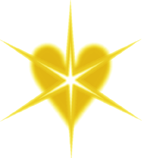 Ask the Mahanta to open your eyes and heart to recognize some new expression of God's love in action.  This will enlarge your world.
Seekers also want to hear the singing of God's love.  So ask for ways you can be the HU in your daily life.   Watch, listen, learn.